Posts for: November, 2012
By Norton Family Dentistry
November 19, 2012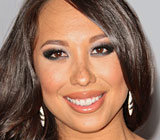 If you've ever watched Dancing with the Stars on television, you've no doubt noticed the vivacious and talented Cheryl Burke, whose ballroom dance moves are as captivating as her bright smile. In fact, Cheryl considers her smile to be one of her most important assets as a professional dancer.
"As a performer, you're basically smiling the whole time," Cheryl told Dear Doctor magazine recently in an exclusive interview. "It's just really important to take care of your teeth and have a great smile."
Cheryl is very conscientious about caring for her smile, but that wasn't always the case. In the Dear Doctor interview, Cheryl revealed that her teeth suffered from ineffective oral hygiene when she was younger. "I definitely had my share of cavities," Cheryl recalled, adding that she believed this was her own fault. "I didn't use floss," She explained. "I think when you do floss frequently, it helps to reduce the chances of getting cavities. It took me a while to figure it out."
Once Cheryl did figure it out, she was able to make cavities a thing of the past. But in order to make sure the effects of her prior tooth decay did not mar her lovely smile, she made sure her dentist — who is also her stepdad! — gave her tooth-colored fillings that could not be distinguished from the surface of a natural tooth. "It's important for me," Cheryl said.
Lots of dental patients feel the same way, even if they don't spend time in front of television cameras. That's why the dental profession has developed tooth-like materials such as composite resins and porcelains that mimic natural tooth material exactly. These materials are also suitable for children's teeth and can incorporate fluoride to reduce tooth decay. It's even possible to replace old silver-colored fillings with these newer dental materials.
If you would like to learn more about tooth-colored fillings, please contact us to schedule an appointment for a consultation. To read Dear Doctor's entire interview with Cheryl Burke, please see "Cheryl Burke." Dear Doctor also has more on "The Natural Beauty of Tooth-Colored Fillings."
By Norton Family Dentistry
November 01, 2012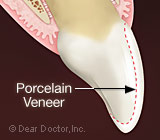 You may have heard the term "veneer" with reference to woodworking, where it means a thin layer of attractive wood that covers and enhances the surface of a piece of furniture. Exactly the same principle applies to porcelain veneers used in dentistry: A thin layer of ceramic material is used to cover parts of a tooth in order to improve its structure and appearance.
Porcelain is a non-metallic ceramic material that is fired in an oven at a high temperature to make it hard and durable. Dental porcelain veneers are thin layers of ceramic that can be applied to the outside of the tooth so that the end result mimics the natural color and translucency of tooth enamel. The underlying tooth structure has to be prepared by removing a small amount of the enamel, about 1 mm, which the veneer replaces. The veneer is then bonded to the prepared surface using a light-sensitive resin.
In woodworking, a veneer may be used to match the grain between the left and right sides of a piece of furniture, creating a beautiful effect on a curve, or simply to bring the appearance of expensive wood to a backing that is less expensive.
Just as a wood veneer improves the appearance of a dresser or table, porcelain laminate veneers may be used to improve teeth that have a number of cosmetic and functional problems. These include staining that cannot be removed by tooth whitening, teeth that are too small, misshapen, chipped or spaced too far apart. After an assessment of your teeth and your smile, we can create a mock-up using temporary tooth-colored materials so you can decide whether the suggested changes will work for you, or you can make suggestions for further improvements.
Porcelain laminate veneers may not be the best solution for you if your teeth are severely stained or damaged. In cases where a large proportion of the original tooth must be replaced, porcelain crowns may be the best solution. The crown is the part of the tooth that is visible above the gum line, and it can be covered with a porcelain crown that looks exactly like a tooth in shape and color. After studying your needs, together we can decide on the most satisfactory method to restore your most attractive smile.
Contact us today to schedule an appointment to discuss your questions about porcelain veneers. You can also learn more by reading the Dear Doctor magazine article "Porcelain Crowns and Veneers."