Posts for: August, 2013
By Norton Family Dentistry
August 21, 2013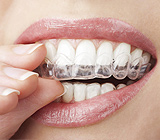 It used to be that the only option for straightening a teenager's teeth involved lots of shiny hardware. Besides the esthetic downside, traditional orthodontic devices (braces) can interfere with the enjoyment of certain favorite foods, irritate the inside of the mouth, trap food particles (potentially another esthetic embarrassment and sustenance for cavity-causing bacteria), and complicate dental hygiene routines.
These aren't causes for concern with clear orthodontic aligners, however, which consist of a series of transparent plastic, removable trays that fit over the teeth and gradually move them into better positioning. About every two weeks, the teen proceeds to the next aligner in the progression (or set of aligners if treatment involves both the upper and lower teeth) until the improved alignment goal is reached. The trays are meant to be worn 22 hours a day, but they can be removed for eating, brushing and flossing, and, on a limited basis, special occasions.
Thanks to relatively recent developments in the design of clear aligner systems, teens who previously were not considered good candidates for this modality may now have this option available to them. This includes:
Teens whose second molars (the last to come in except for wisdom teeth) haven't fully emerged. Aligners now come with "eruption tabs" that serve as place-holders for teeth that are still growing into position.
Teens with severely rotated teeth requiring complicated movement. Tooth-colored attachments called "buttons" can be temporarily bonded onto teeth to provide additional leverage, and elastics (rubber bands) can also be used to promote movement.
Compliance is always a concern with any orthodontic treatment — whether it be gum chewing with traditional braces or wearing clear aligners for the requisite period of time each day. Aligners now come with built-in colored "compliance indicators" that fade with use over time. This makes it possible for orthodontists, dentists, parents and teens alike to monitor both compliance and treatment progress.
If you would like more information about clear orthodontic aligners please contact us or schedule an appointment for a consultation. You can also learn more about this topic by reading the Dear Doctor magazine article "Clear Aligners for Teens."
By Norton Family Dentistry
August 06, 2013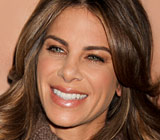 Jillian Michaels, personal trainer and star of television's The Biggest Loser isn't afraid of a tough situation — like a heart-pumping exercise routine that mixes kickboxing with a general cardio workout. But inside, she told an interviewer from Dear Doctor magazine, she's really a softie, with "a drive to be one of the good guys." In her hit TV shows, she tries to help overweight people get back to a healthy body mass. And in doing so, she comes face-to-face with the difficult issue of sleep apnea.
"When I encounter sleep apnea it is obviously weight related. It's incredibly common and affects millions of people," she says. Would it surprise you to know that it's a problem dentists encounter as well?
Sleep apnea is a type of sleep-related breathing disorder (SRBD) that's associated with being overweight, among other things. Chronic loud snoring is one symptom of this condition. A person with sleep apnea may wake 50 or more times per hour and have no memory of it. These awakenings last just long enough to allow an individual to breathe — but don't allow a deep and restful sleep. They may also lead to other serious problems, and even complications such as brain damage from lack of oxygen.
What's the dental connection? Sleep apnea can sometimes be effectively treated with an oral appliance that's available here at the dental office. The appliance, worn at night, repositions the jaw to reduce the possibility of the tongue obstructing the throat and closing the airway. If you are suffering from sleep apnea, an oral appliance may be recommended — it's a conservative treatment that's backed by substantial scientific evidence.
As Michaels says, "I tell people that [sleep apnea] is not a life sentence... It will get better with hard work and a clean diet." So listen to the trainer! If you would like more information about sleep-related breathing disorders, please contact us for a consultation. You can learn more in the Dear Doctor magazine article "Sleep Disorders and Dentistry."