Posts for: May, 2015
By Norton Family Dentistry
May 24, 2015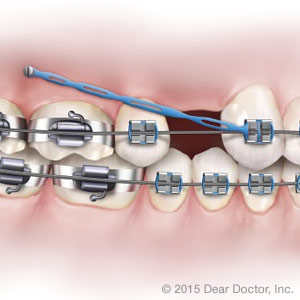 As a basic orthodontic appliance, braces are what allows us to move teeth into better positions to improve a person's bite. In certain cases, though, this treatment application gets a little assistance from Temporary Anchorage Devices (TADs) to improve accuracy and reduce treatment time.
Braces take advantage of our teeth's natural ability to move. Teeth are held in place within the bone by the periodontal ligament, an elastic tissue that attaches to the teeth with microscopic fibers secured by a hardened substance called cementum. The periodontal ligament is constantly remodeling in response to changes in the mouth. As pressure is placed on a tooth, new bone, ligament and cementum are formed on the "pulling" side of the tooth; on the other side, the bone and ligament dissolve (resorb), allowing the tooth to move in that direction.
Braces allow this natural process to occur with controlled forces applied by thin flexible wires threaded through the small brackets attached to the front of the teeth and then affixed or "anchored" to other teeth. By attaching the teeth to the other teeth by wires running through all the brackets, "anchorage" is created to allow teeth to be moved where the dentist wants them to go. By adjusting the tension on the wires, we can apply light but constant pressure on the "unanchored" teeth to move them into a new desired position.
Teeth we do not want to move are referred to as the anchorage for teeth we do want to move. If, however, the situation calls for more precise isolation of teeth to be moved, TADs can be very useful. TADs are mini-implants imbedded in the bone to serve as anchorage at strategic locations in the mouth. In this way, the group of teeth to be moved receives forces that are applied through the additional anchorage provided by the TADs. That "tension" or "pressure" is applied only to them and not to adjacent teeth that should not move. This increases efficiency for tooth movement and helps reduce the treatment time.
TADs can be placed using local anesthesia and with little discomfort, and are removed when orthodontic treatment is completed. Although the procedure is pretty straightforward, it does require collaboration between orthodontist and surgeon to ensure correct positioning.
In the end, TADs increase our ability to control the forces that move teeth during orthodontic treatment. This lessens discomfort for the patient and helps ensure the end result — a more functional bite and a transformed smile.
If you would like more information on the use of TADs and other orthodontic appliances, please contact us or schedule an appointment for a consultation. You can also learn more about this topic by reading the Dear Doctor magazine article "What are TADs?"
By Norton Family Dentistry
May 09, 2015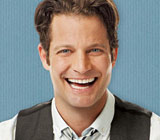 Design expert and television celebrity Nate Berkus has definite ideas about how to live. In a recent interview, he explained his ideas on design. He also talked about health, and how he keeps his teeth and mouth healthy.
From an initial design makeover that he did eight years ago on the Oprah Winfrey Show, Berkus has gone on to do 127 such makeovers. He was such a success that he now hosts his own daily talk show. He has also developed a line of home products for the Home Shopping Network and has his own design firm, Nate Berkus Associates. His clients include well-known restaurants and hotels as well as private homes. He has written articles for O Magazine and authored a book on the subject of transforming your home into a place you love.
"I realized many years ago that I wasn't going on Oprah to pick sofa colors and paint chips. I was there to lift people up through the way they live," he says. His secret to design success is to "go with what you love." He says, "Don't worry about mixing metals, eras or styles. If you love each item, you'll find a way to make it work."
His common sense practical attitude continues when it comes to dental health. Berkus is blessed with a healthy mouth and teeth. He doesn't feel anxious when visiting the dentist because he usually has a good report. He has not needed orthodontics or cosmetic dentistry. He thanks his childhood dentist for giving him fluoride treatments and sealants, and for teaching him healthy dental hygiene habits.
Berkus brushes his teeth twice or even three times a day, with a manual or electric toothbrush — depending on whether he is at home or traveling. He also follows his dentist's advice about flossing: "Floss the ones you want to keep!" He says that he tried tooth whitening once, but he felt that the whiteness was "too white." Now he simply works to maintain his natural tooth color and smile.
Contact us today to schedule an appointment to discuss your questions about maintaining healthy teeth. You can also learn more by reading the Dear Doctor magazine article "Nate Berkus, Helping Others Love the Way They Live."