Posts for: March, 2018
By Norton Family Dentistry
March 30, 2018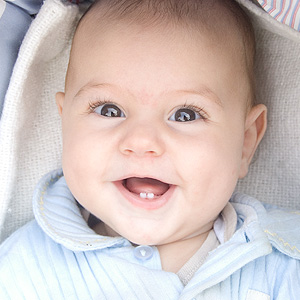 As a parent, you have plenty of questions about your child's health. One we hear quite often is when dental care should begin for a child.
The short answer is when their first tooth comes in, usually at six months to a year of age: that's when you should begin brushing at home. But there's also the matter of when to begin your child's regular dental visits: we recommend the first visit around the child's first birthday. Here are 4 reasons why this is the right time to start.
Prevention. First and foremost, starting visits at age one gives your child the best start for preventing tooth decay through cleanings, topical fluoride or, in some cases, sealants. Preventive care for primary teeth may not seem that important since they'll eventually give way to the permanent teeth. But primary teeth also serve as guides for the next teeth's ultimate position in the mouth — if a primary tooth is lost prematurely, it could affect your child's bite in later years.
Development. Early dental visits give us a chance to keep an eye on bite and jaw development. If we notice a developing malocclusion (bad bite) or conditions favorable for it, we can refer you to an orthodontist for consultation or interventional therapy to reduce the possibility or extent of future treatment.
Support. Your child's regular dental visits can also help you as a parent. We can advise you on all aspects of dental care, including brushing and flossing techniques, nutrition dos and don'ts, and how to handle situations like late thumb sucking.
Familiarization. Dental visits starting at age one will help your child become familiar and comfortable with visiting the dentist that might be more difficult to achieve if they're older. Dental visit anxiety is a major reason why many people don't maintain regular visits later in life. Children who come to realize that dental visits are a normal, even pleasant experience are more likely to continue the practice into adulthood.
Caring for your child's teeth is just as important as other aspects of their health. Getting an early start can head off brewing problems now and set the course for healthy teeth and gums tomorrow.
If you would like more information on pediatric dental care, please contact us or schedule an appointment for a consultation. You can also learn more about this topic by reading the Dear Doctor magazine article "Age One Dental Visit."
By Norton Family Dentistry
March 15, 2018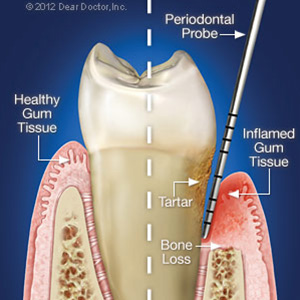 If you're over age 30 there's a fifty percent chance you have periodontal (gum) disease—and you may not even know it. Without treatment this often "silent" bacterial infection could cause you to lose gum coverage, supporting bone volume or eventually your teeth.
That's not to say there can't be noticeable symptoms like swollen, red, bleeding or painful gums. But the surest way to know if you have gum disease, as well as how advanced it is, is to have us examine your gums with manual probing below the gum line.
Using a long metal device called a periodontal probe, we can detect if you've developed periodontal pockets. These are gaps created when the diseased gum's attachment to teeth has weakened and begun to pull away. The increased void may become inflamed (swollen) and filled with infection.
During an exam we insert the probe, which has markings indicating depths in millimeters, into the naturally occurring space between tooth and gums called the sulcus. Normally, the sulcus extends only about 1-3 mm deep, so being able to probe deeper is a sign of a periodontal pocket. How deep we can probe can also tell us about the extent of the infection: if we can probe to 5 mm, you may have early to mild gum disease; 5-7 mm indicates moderate gum disease; and anything deeper is a sign of advanced disease.
Knowing periodontal pocket depth helps guide our treatment strategy. Our main goal is to remove bacterial plaque, a thin film of food particles that collects on teeth and is the main cause and continuing fuel for the infection. In mild to moderate cases this may only require the use of hand instruments called scalers to manually remove plaque from tooth surfaces.
If, however, our periodontal probing indicates deeper, advanced gum disease, we may need to include surgical procedures to access these infected areas through the gum tissue. By knowing the depth and extent of any periodontal pockets, we can determine whether or not to use these more invasive techniques.
Like many other health conditions, discovering gum disease early could help you avoid these more advanced procedures and limit the damage caused by the infection. Besides daily brushing and flossing to remove plaque and regular dental checkups, keep watch for signs of swollen or bleeding gums and contact us for an appointment as soon as possible. And be aware that if you smoke, your gums will not likely bleed or swell—that could make diagnosis more difficult.
If you would like more information on treating gum disease, please contact us or schedule an appointment for a consultation. You can also learn more about this topic by reading the Dear Doctor article "Understanding Periodontal Pockets."