Posts for tag: veneers
By Norton Family Dentistry
March 13, 2019
At Norton Family Dentistry, we use cosmetic dentistry to restore your teeth structurally and aesthetically. Here are a few cosmetic dental procedures that are offered at our Norton, MA, office:
Veneers
Veneers resurface an individual's damaged teeth. Your Norton dentist removes some enamel before placing porcelain veneers on the teeth's surface. Veneers help with stained, discolored, crooked, chipped, and generally mishappen teeth.
Contouring and Reshaping
Contouring and reshaping teeth are simple cosmetic procedures that will give you a more confident smile in little time and at an affordable cost. They help with problems such as crooked and crowded teeth, pits and/or grooves in enamel, and with defects such as chips, cracks, and fractures.
Teeth Whitening
There are two available options for this treatment: in-office procedures and take-home kits.
Teeth whitening is a great option to improve that gorgeous smile you already have, however, taking good general care of your teeth is just as important. Here are a few tips that you can follow to ensure that the improved look fo your teeth remains for a long period of time:
Quit tobacco, as it can stain your teeth and cause oral diseases
Reduce the intake of staining beverages such as coffee and tea
Dental Implants
This tooth loss treatment creates stability, strength, and prevents the weakening and shrinkage of your jawbone. Dental implants consist of a titanium post that is surgically inserted into your jaws to replace the missing tooth roots. The dentist then seals your gums and allows 3 to 6 months for a bond to form between the implant and the jawbone. After this period, your dentist secures a crown on top of the post, finalizing your new smile.
Basic Care for Your Cosmetic Procedure:
Gentle brushing and flossing every day.
Regular dental checkups and bi-annual dental cleanings.
Using a nightguard if you have a problem with teeth grinding.
Consultation
If you'd like more information about cosmetic dentistry, contact our Norton, MA, office today at 508-226-1686!
By Norton Family Dentistry
April 25, 2017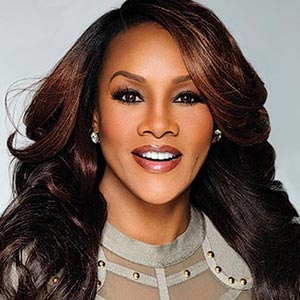 What's an actor's most important feature? According to Vivica A. Fox, whose most recent big-screen role was in Independence Day: Resurgence, it's what you see right up front.
"On screen, your smile and your eyes are the most inviting things that bring the audience in" she said. "Especially if you play the hot chick."
But like lots of people, Vivica reached a point where she felt her smile needed a little help in order to look its best. That's when she turned to a popular cosmetic dental treatment.
"I got veneers years ago," Ms. Fox told Dear Doctor magazine in a recent interview, "just because I had some gapping that probably only I noticed."
What exactly are dental veneers? Essentially, they are thin shells of lustrous porcelain that are permanently attached to the front surfaces of the teeth. Tough, lifelike and stain-resistant, they can cover up a number of defects in your smile — including stains, chips, cracks, and even minor spacing irregularities like the ones Vivica had.
Veneers have become the treatment of choice for Hollywood celebs — and lots of regular folks too — for many reasons. Unlike some treatments that can take many months, it takes just a few appointments to have veneers placed on your teeth. Because they are custom made just for you, they allow you to decide how bright you want your smile to be: anywhere from a natural pearly hue to a brilliant "Hollywood white." Best of all, they are easy to maintain, and can last for many years with only routine care.
To place traditional veneers, it's necessary to prepare the tooth by removing a small amount (a millimeter or two) of its enamel surface. This keeps it from feeling too big — but it also means the treatment can't be reversed, so once you get veneers, you'll always have them. In certain situations, "no-prep" or minimal-prep veneers, which require little or no removal of tooth enamel, may be an option for some people.
Veneers aren't the only way to create a better smile: Teeth whitening, crowns or orthodontic work may also be an alternative. But for many, veneers are the preferred option. What does Vivica think of hers?
"I love my veneers!" she declared, noting that they have held up well for over a decade.
For more information about veneers, please contact us or schedule an appointment for a consultation.
By Norton Family Dentistry
November 01, 2012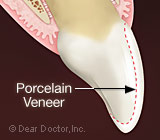 You may have heard the term "veneer" with reference to woodworking, where it means a thin layer of attractive wood that covers and enhances the surface of a piece of furniture. Exactly the same principle applies to porcelain veneers used in dentistry: A thin layer of ceramic material is used to cover parts of a tooth in order to improve its structure and appearance.
Porcelain is a non-metallic ceramic material that is fired in an oven at a high temperature to make it hard and durable. Dental porcelain veneers are thin layers of ceramic that can be applied to the outside of the tooth so that the end result mimics the natural color and translucency of tooth enamel. The underlying tooth structure has to be prepared by removing a small amount of the enamel, about 1 mm, which the veneer replaces. The veneer is then bonded to the prepared surface using a light-sensitive resin.
In woodworking, a veneer may be used to match the grain between the left and right sides of a piece of furniture, creating a beautiful effect on a curve, or simply to bring the appearance of expensive wood to a backing that is less expensive.
Just as a wood veneer improves the appearance of a dresser or table, porcelain laminate veneers may be used to improve teeth that have a number of cosmetic and functional problems. These include staining that cannot be removed by tooth whitening, teeth that are too small, misshapen, chipped or spaced too far apart. After an assessment of your teeth and your smile, we can create a mock-up using temporary tooth-colored materials so you can decide whether the suggested changes will work for you, or you can make suggestions for further improvements.
Porcelain laminate veneers may not be the best solution for you if your teeth are severely stained or damaged. In cases where a large proportion of the original tooth must be replaced, porcelain crowns may be the best solution. The crown is the part of the tooth that is visible above the gum line, and it can be covered with a porcelain crown that looks exactly like a tooth in shape and color. After studying your needs, together we can decide on the most satisfactory method to restore your most attractive smile.
Contact us today to schedule an appointment to discuss your questions about porcelain veneers. You can also learn more by reading the Dear Doctor magazine article "Porcelain Crowns and Veneers."