Dental Implants – Norton, MA
Replacement Teeth That Are Just Like the Real Thing
Dental implants are widely considered to be the closest thing to having your natural teeth back after they've been lost. Unlike dentures and bridges, dental implants reconstruct every part of the missing teeth. Thanks to our in-house periodontist, Dr. Isaac Kim, we're able to complete every step of the dental implant process right here at Norton Family Dentistry. That way, you won't need to travel far to recover your smile and enjoy reliable results for decades to come. Schedule your consultation to discuss tooth replacement with dental implants in Norton, MA by calling us today!
Why Choose Norton Family Dentistry for Dental Implants?
Implants Placed In-House by Trained Periodontist
Dental Insurance-Friendly Dental Office with Flexible Financing Available
Digital Impression System for Comfort & Precision
What are Dental Implants?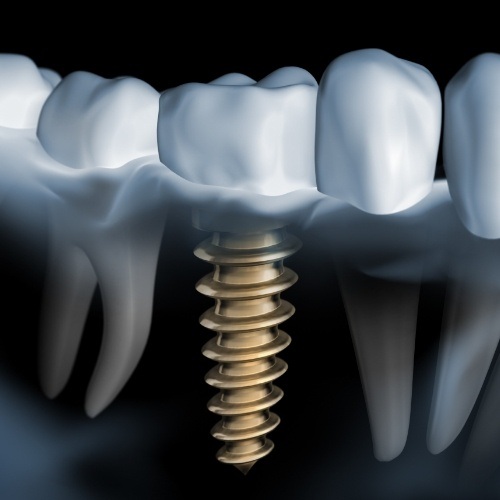 Dental implants are small titanium rods that act as prosthetic tooth roots. After they've been surgically placed in the jawbone where the natural teeth once were, they begin bonding with the bone. This creates a foundation that is just as stable and comfortable as real teeth. Then, we can secure a restoration on top, which may be a dental crown, a bridge, or even a denture, to close the gaps in your grin with a solution that looks and feels impeccably lifelike.
The 4-Step Dental Implant Process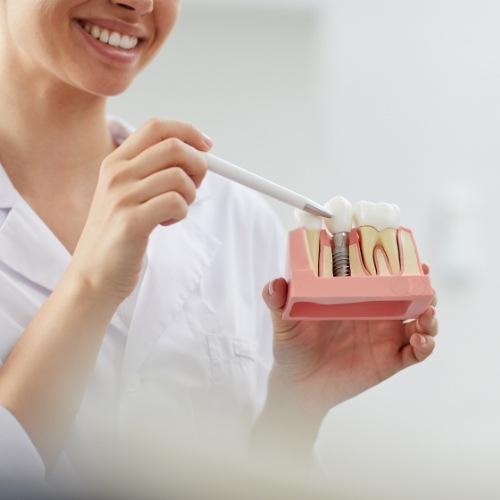 Initial Consultation – To begin, you'll meet with our team to have your oral health and medical history evaluated. If need be, we'll complete any procedures that are necessary before you can receive implants.
Dental Implant Surgery – With Dr. Kim's expertise, the implants will be safely positioned into your jawbone during a brief surgical procedure.
Osseointegration/Abutment – It can take up to six months for the jawbone to grow around the implant posts and anchor it in place. This process is called osseointegration. Once it's complete, we may attach metal pieces called abutments that will secure your restorations.
Delivery of Restoration(s) – Lastly, you'll come back to our dental office to have your implants restored with a crown, bridge, or denture.
Benefits of Dental Implants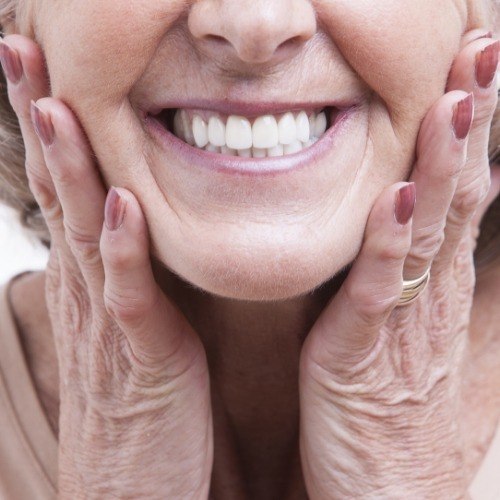 Thanks to their firm foundation in the jaw, dental implants can do a lot of things that traditional tooth replacements cannot. For one, they'll help you eat all of your favorite foods and smile confidently without worrying about embarrassing slippage. They're also the only tooth replacement option that prevents jawbone deterioration, an unfortunate consequence of tooth loss. Implants also have the potential to last for 30+ years, as opposed to dentures and bridges, which need to be replaced every five to ten years on average.
Who Dental Implants Can Help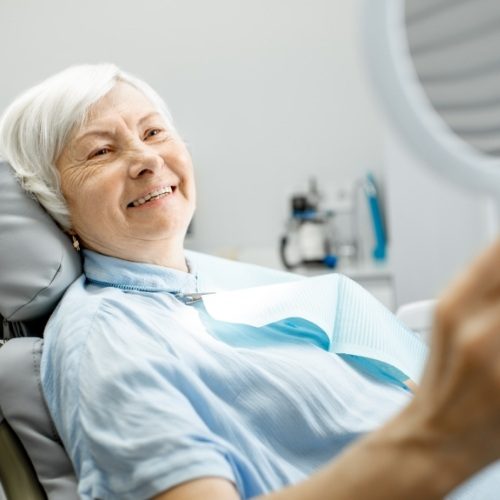 As the most versatile tooth replacement, dental implants can recreate one, several, or even all of your missing teeth. Most adults who are generally healthy can qualify. However, in order for an implant to take hold, a patient must have strong jawbone density, a healthy mouth, and good overall health. Once our team has verified that you meet these criteria, we can start planning your treatment around the number of teeth you're replacing.
Missing One Tooth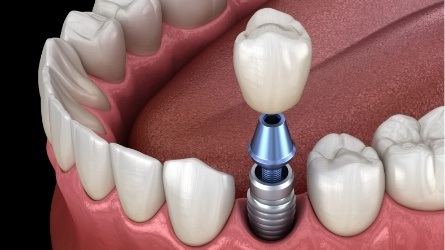 A single implant can be inserted into the space between two natural teeth and topped with a personalized dental crown. Unlike getting a bridge, this approach doesn't require us to remove any healthy structure from your remaining teeth.
Missing Multiple Teeth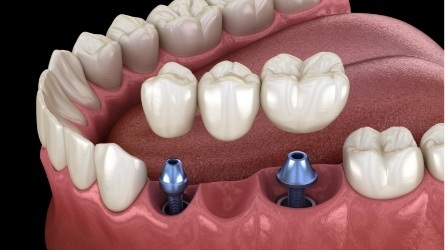 Several implants can be positioned throughout the arch to hold a partial denture in place that is significantly sturdier than conventional ones. We can also replace three or more consecutive teeth by securing a bridge onto just two implants, each of which is at one end of the space.
Missing All Teeth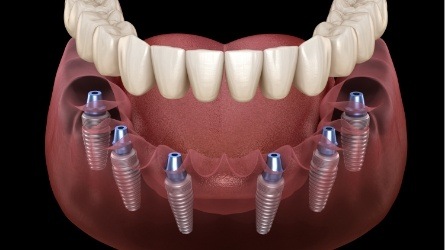 An entire row of teeth can be brought back with as few as four implants in strategic locations along the jaw, which support a full denture. With an implant denture, you can count on your teeth to stay in place no matter what you're eating.
Understanding the Cost of Dental Implants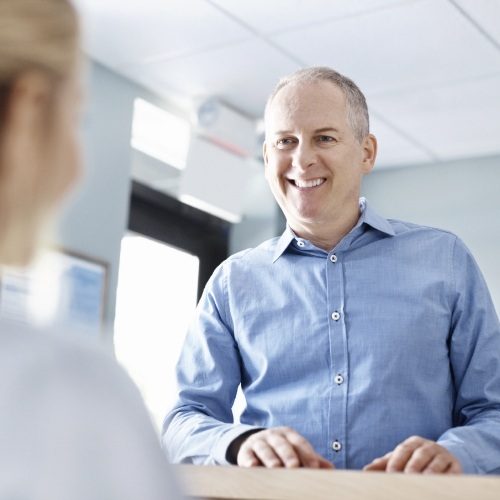 Because every treatment is 100% tailored to a patient's unique needs, the cost of dental implants is always different from person to person. At your initial consultation, our team will discuss the factors that can affect the price, such as the number of implants you need and where in your mouth they'll be placed. We'll also review your options for making dental implants affordable, including your insurance and CareCredit financing.



Have Questions?
Get Answered.