Emergency Dentist – Norton, MA
Urgent Care for Your Smile
Nobody ever expects a dental emergency, but it happens far more often than you'd think! When you need urgent care for your smile, you're better off calling an emergency dentist in Norton, MA rather than waiting in the emergency room for subpar treatment that doesn't address the root cause of the problem. At Norton Family Dentistry, we strive to see dental patients with dental emergencies that very day, and we'll work to stop the problem and prevent it from ever returning. Contact us today!
Why Choose Norton Family Dentistry for Emergency Dentistry?
Dental Emergencies Seen the Same Day
Dental Insurance Accepted & Flexible Financing Available
Expert Endodontist & Periodontist In-House
How We Treat Dental Emergencies
We understand that dental emergencies can be stressful, but take a deep breath and try to stay calm. Then, call our dental office as soon as you can. From there, our team can help by:
Scheduling your visit – With our evening dental office hours, we're available to treat dental emergencies much later in the day than many other dental offices. Once you call us and tell us about your symptoms, we'll work to schedule an appointment for you quickly. In most cases, we can see you later that day. While we have you on the phone, we can give first-aid tips for managing your pain in the meantime.
Assessing the situation – As soon as you arrive at our dental office, either Dr. Salloum or Dr. Devine will examine your mouth and pinpoint what's causing the problem. If you're in acute pain, they can also provide relief.
Going over your treatment options – After your exam, our doctors will share their discoveries with you and recommend the treatment(s) that would best alleviate your discomfort and restore your smile's health.
Caring for your smile – Whatever dental services you need, our team can provide them. We have an in-house endodontist and periodontist who can perform expert care for many common emergencies.
The Most Common Dental Emergencies
There are nearly countless possible dental emergencies, but they all share one quality: they need attention from a dental professional as soon as possible. It's always best to call our dental office whenever you're experiencing any unusual problem in your mouth, especially these common dental emergencies.
Understanding the Cost of Treating Dental Emergencies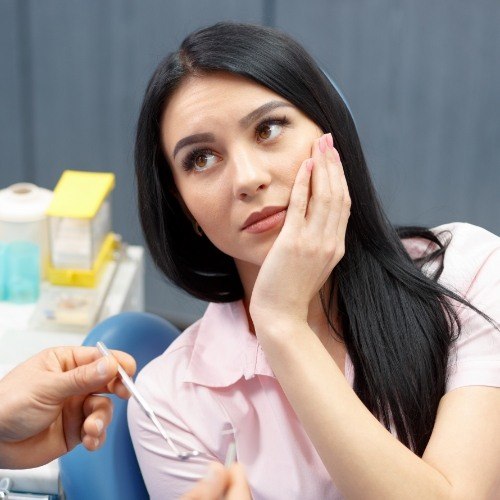 When an urgent dental problem strikes, getting the care you need should be your top priority. Once you've arrived at our dental office and we've had the chance to evaluate your specific situation, then we can give you a cost estimate for your care. Each dental emergency needs different treatment, and the cost will vary accordingly. Our dental office is in-network with several popular dental insurance plans and we offer flexible financing to make your care affordable. To learn more about the cost of emergency dentistry in Norton, click on the button below!
Every Dental Emergency Is Different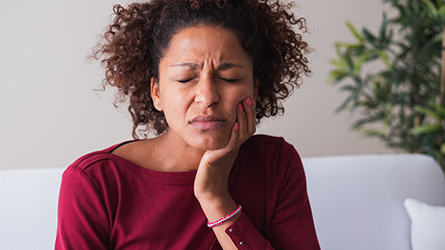 No two smiles are the same, which is why every emergency situation is unique. It's impossible to know how much your care will cost until you come into the office for an examination. During your visit, we'll carefully assess your mouth to evaluate to determine the extent of the damage. Using our findings, we'll create a custom treatment plan to get your smile back on the right track.
The treatment you require will depend entirely on the type of emergency you're experiencing. If you have minor sensitivity due to decay or a cavity, you may only need a filling. On the other hand, chronic tooth pain might need to be addressed with a dental crown or root canal. Rest assured – we'll thoroughly discuss your treatment options and the expected costs before moving forward with anything.
Does Dental Insurance Cover Dental Emergencies?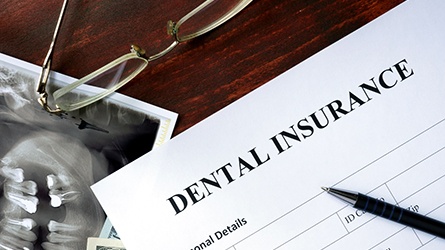 You'll be happy to know that most dental insurance plans offer some level of coverage for emergency dental care. This usually includes at least one necessary emergency exam per year and 50-80% of coverage for treatments associated with hurting teeth (i.e., dental crowns, tooth extractions, root canal therapy). Because every policy is unique, you should confirm the details of your coverage with a provider before committing to any services. Our team can help with this process as needed!
Other Options for Making Dental Emergencies Affordable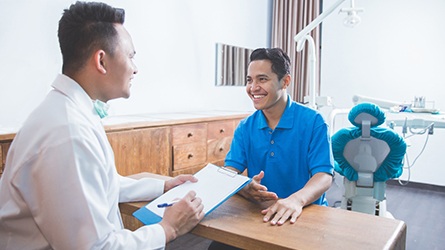 Don't have dental insurance? No problem! At Norton Family Dentistry, we never want costs to get in the way of the care you need. That's why we're proud to offer additional financial solutions to help you stay within your budget. We work with CareCredit financing, a trusted third-party financier, that offers flexible monthly payments at little-to-no interest. You can also take advantage of our $79 new patient special, which includes a comprehensive exam and full mouth series of X-rays.
Taking Care of Your Smile Can Save You Money
The best way to lower your risk of dental emergencies is by taking proper care of your smile. Brushing twice a day, flossing daily, and visiting your dentist every six months for a checkup and cleaning will keep your mouth in tip-top shape. Some other ways to maintain a healthy smile are by avoiding poor habits (like smoking), wearing a mouthguard when playing sports, and avoiding sticky or crunchy foods.
Keys to Preventing Dental Emergencies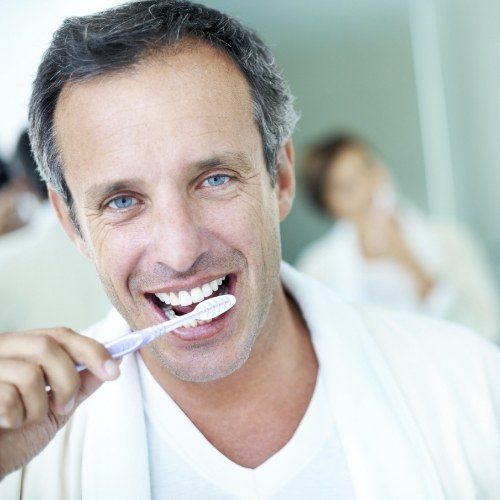 Not every dental emergency can be avoided, but taking a proactive approach to your oral health will go a long way toward minimizing the risk of harm befalling your smile. Remember a few key things:
Brushing twice a day and flossing at least once a day will reduce the buildup of plaque that causes painful decay.
Visiting our dental office every six months lets our dentists catch and treat oral health issues before they become emergencies.
Wearing a mouthguard when you play sports will cushion the impact of blows to the face.
Dental Emergency FAQs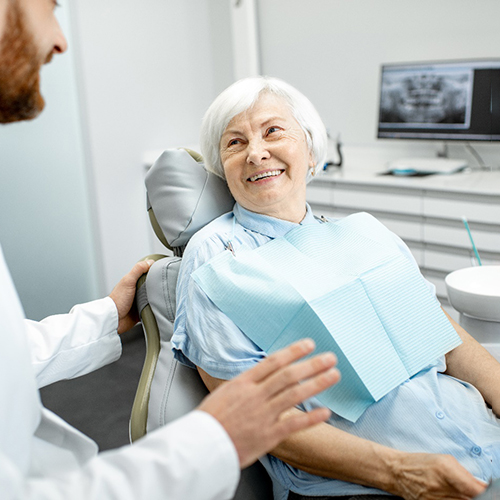 It's no secret that dental emergencies can be quite stressful. So, it's only natural to want to know as much as possible about what to do and where to turn when a dental injury strikes. With early morning, lunchtime, and evening hours throughout the week, we're always a phone call away if you want to talk to our team directly. Or, you can learn more on the topic right here; we've responded to some FAQs below!
Should I visit the emergency room first for dental emergencies?
There are some cases where the answer is "yes." If you need medical attention due to a potentially life-threatening symptom, like difficulty breathing, bleeding that lasts for more than 10 minutes, trouble swallowing, or a fractured jaw, then you should call 911 or head to your nearest ER. Although most hospitals don't have a dentist on-staff, they can alleviate your discomfort and provide you with the medical attention you need.
For "straightforward" dental injuries (i.e., a knocked-out tooth, loose restoration, persistent toothache), your first call should be to our office. From there, our Norton emergency dentist can conduct an exam, discover the root of the problem, and create a custom treatment plan to restore your healthy, strong, and beautiful smile.
How should I sleep with tooth pain?
Have you noticed that your tooth pain is worse at night? That's often the result of the blood rushing to your head, which can cause an unpleasant, throbbing sensation in your tooth. So, one of the first steps you should take is keeping your head elevated while you sleep. It's also a good idea to avoid acidic, cold, and spicy foods before bed and take an over-the-counter pain reliever about 30 minutes prior.
Important note: these are not long-term solutions. Rather, they are small steps you can take to keep you comfortable and help you get quality sleep until you have a chance to visit your dentist.
My chipped tooth doesn't hurt. Do I still need to visit?
If the chip is minor and you aren't experiencing any discomfort, then you don't need to schedule a same-day appointment. You should, however, monitor the tooth closely and get a dental visit on the calendar within the next day or two. Remember, even a small chip can leave your tooth vulnerable to decay and infection, so don't wait too long to visit our Norton emergency dentist!
What should I pack in my dental emergency kit?
Although it may seem excessive to have a designated dental emergency kit, you'll be happy you have one the moment a dental injury strikes. We recommend keeping some gauze, a small container to fit a tooth, floss, and other dental emergency-specific items in yours, as well as some general items, like an over-the-counter pain reliever. It's also helpful to have your emergency dentist's contact information readily available so you know exactly which number to call for help.



Have Questions?
Get Answered.