Dentures – Norton, MA
Overcome Extensive Tooth Loss with Dentures
A reliable approach to replacing multiple missing teeth is through dentures, a time-tested method. However, finding dentures that fit exceptionally well can be a challenge. At Norton Family Dentistry, we recognize the significance of dentures that not only look natural but also provide utmost comfort, significantly enhancing your overall quality of life. Our team is dedicated to crafting natural-looking dentures in Norton that are both well-fitting and durable. To learn more about this service, continue reading or give us a call today!
Who Is a Good Candidate for Dentures?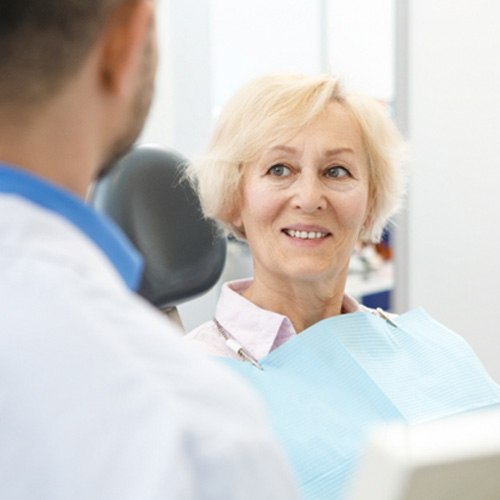 A good candidate for dentures is someone who has one or more missing teeth, whether they are scattered throughout an arch or an entire row. It's important to address missing teeth promptly to prevent potential oral health issues, such as gum disease and decay in the future. During the initial consultation, we'll thoroughly examine your mouth and discuss various options with you to determine the best solution that aligns with your lifestyle and specific needs. Dentures offer versatility in restoring missing teeth and can be a suitable choice for a wide range of individuals.
Types of Dentures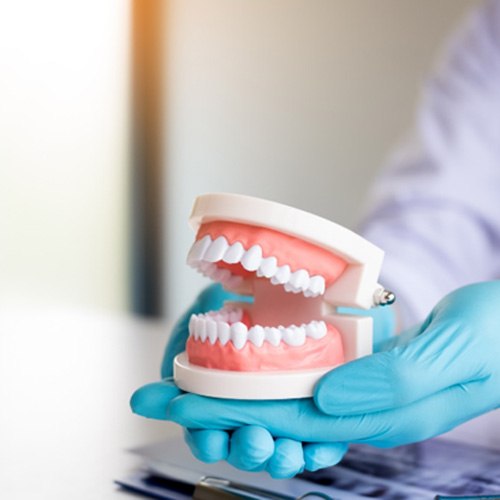 Based on your tooth loss situation, our team may recommend any of the following denture types to effectively restore both the function and aesthetics of your smile. During your consultation, we will discuss the advantages and disadvantages of each option, along with a detailed cost estimate.
Partial Dentures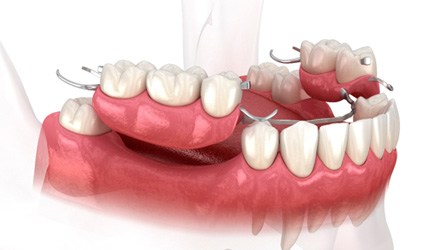 Partial dentures are created with a gum-colored acrylic base, typically reinforced with metal. This base is designed to snugly fit around your existing teeth, securing the replacements in position to fill gaps across your arch. They are conveniently removable, which makes them easy to clean and maintain.
Full Dentures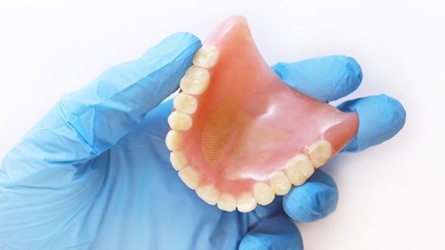 If you've lost all your teeth on either your upper or lower arch, opting for complete (full) dentures can significantly enhance your ability to enjoy a diverse range of foods, preserve your facial structure, and restore your confidence in smiling!
Ensuring a snug fit for your dentures is crucial. We'll take great care in crafting full dentures with precision, ensuring they stay securely in place when you need them most. Additionally, we pay careful attention to the design of your replacement teeth, aiming for a completely natural look.
Implant Dentures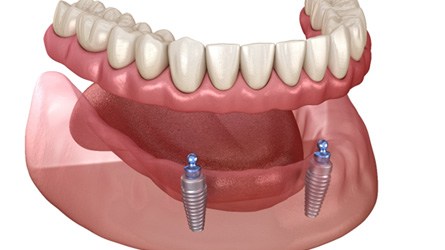 Implant dentures combine the aesthetic appeal of traditional dentures with a reinforced, sturdy foundation. By securely attaching a full or partial denture to two to six dental implants surgically placed beneath the gumline, we effectively restore your missing root structure. This modern approach not only enhances your bite power by up to 80%, but also provides a significant boost to your confidence.
The Benefits of Dentures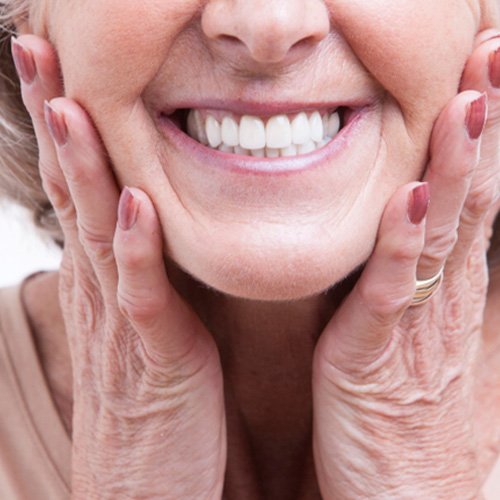 Choosing dentures with your Norton dentist offers a multitude of benefits. These advantages include:
Restoration of bite function
Increased food options for eating
Improved speech ability
Prosthetics with a potential lifespan of 7+ years with proper maintenance
Simple maintenance for ease of care
Preservation of facial structure



Have Questions?
Get Answered.